July 6 (Tammuz 3) will mark twenty-five years since the Lubavitcher Rebbe's passing in 1994.
To commemorate, Chabad centers worldwide celebrated the Rebbe's life and lasting legacy with community Shabbat dinners, events, lectures, and farbrengens. Here's a round-up of some of the larger events:
Chabad of the Pacific Northwest, in partnership with various Jewish institutions across Washington, organized an event on June 24 featuring Former Israeli Chief Rabbi Yisrael Meir Lau who addressed the crowd in a talk titled 'The Rebbe and the Youngest Survivor of Buchenwald.'
In Milwaukee, Wisconsin, 400 people gathered on June 26 to celebrate fifty years of Chabad in Wisconsin and to hear memories and lessons from Rabbi Yehuda Krinsky, Chairman of Chabad Lubavitch Headquarters and the Rebbe's secretary for over forty years. Rabbi Krinsky spoke about the surging growth of Chabad and how to strengthen one's connection to the Rebbe and his teachings.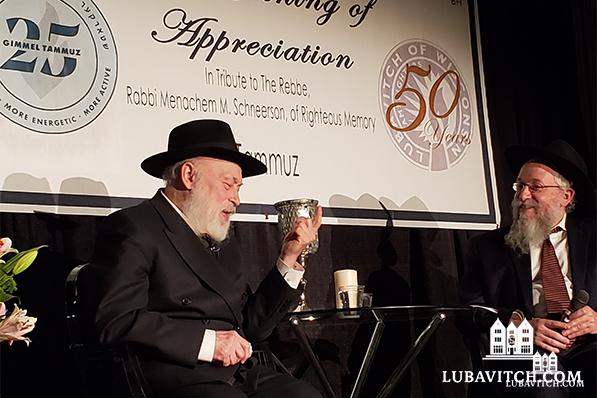 Rabbi Yehuda Krinsky at Chabad of Milwaukee's event
Chabad centers of Pinellas and Pasco counties in Florida held a musical tribute on June 30. Named 'The Rebbe's Niggunim: Songs of the Inspired Soul,' the concert brought to life six Chasidic melodies the Rebbe taught, interspersed with related anecdotes. The string quartet was led by master violinist Oleg Geyer, member of Florida Orchestra, leader of Allegro String Quartet, and violin professor at St. Petersburg College.
A lineup of speakers and musical interludes are planned for another unity event organized by Chabads in the Conejo Valley, Agoura Hills and Ventura County, California on July 10. Featured speakers are screenwriter, movie director and producer Salvador Litvak (Accidental Talmudist) and British Chabad Rabbi Mendel Kalmenson, author of the newly released book, The Rebbe's Positivity Bias.
In the Chicagoland, Illinois area, thirteen centers will be joining together on July 15 for an evening of unity and inspiration called 'One People, One Heart' featuring guest speaker Joseph Telushkin. Telushkin authored the book Rebbe: The Life and Teachings of Menachem M. Schneerson, the Most Influential Rabbi in Modern History which was listed on the New York Times Best Seller list (in addition to The Wall Street Journal, Publishers Weekly, Reuters, and others), and selling out completely mere hours after its debut.