Chabad on Campus International received the prestigious Richard J.H. Gottheil Award, alongside Hillel International, from the Zeta Beta Tau (ZBT) fraternity on Saturday night. Zeta Beta Tau is the world's oldest Jewish fraternity. The award was presented during a gala banquet at the closing of the fraternity's annual international convention in Los Angeles.
This award is presented to individuals or groups "that have advanced human understanding among all people." Previous recipients included the Southern Poverty Law Center, Doctors Without Borders, Jewish Federations of North America, Anti-Defamation League and President Franklin Delano Roosevelt.
ZBT's CEO, Laurence A Bolotin told Lubavitch.com of the fraternity's motivation to recognize Chabad this year. "Chabad on Campus is an important partner to ZBT as we work to build leaders for the Jewish community." He also shared that when he first visited a Chabad on Campus in 2005 at the University of Washington, he felt "like part of the family."
"Many of our chapters have partnered with their Chabads to create meaningful and exciting programs together," said Norman Waas, International President of the Supreme Council of ZBT as he presented the award.
On behalf of Chabad's 264 campus centers that serve more than 500 university and college campuses worldwide, Rabbi Yossy Gordon, Executive Vice President of Chabad on Campus International, accepted the award. "The Rebbe, Rabbi Menachem Mendel Schneerson inspired us to each be a leader. I believe very strongly that all of us in this room are pioneers. Each of us has an opportunity to provide the leadership that this world so desperately needs."
Attending the convention were Director of Chabad at University of Miami, and Honorary ZBT Brother, Rabbi Mendy Fellig and Rabbi Dovid and Goldie Tiechtel of Chabad at University of Illinois at Urbana-Champaign. Having both been instrumental in creating a partnership between the two organizations, the Tiechtels and Fellig directed the ZBT Shabbat program at the convention.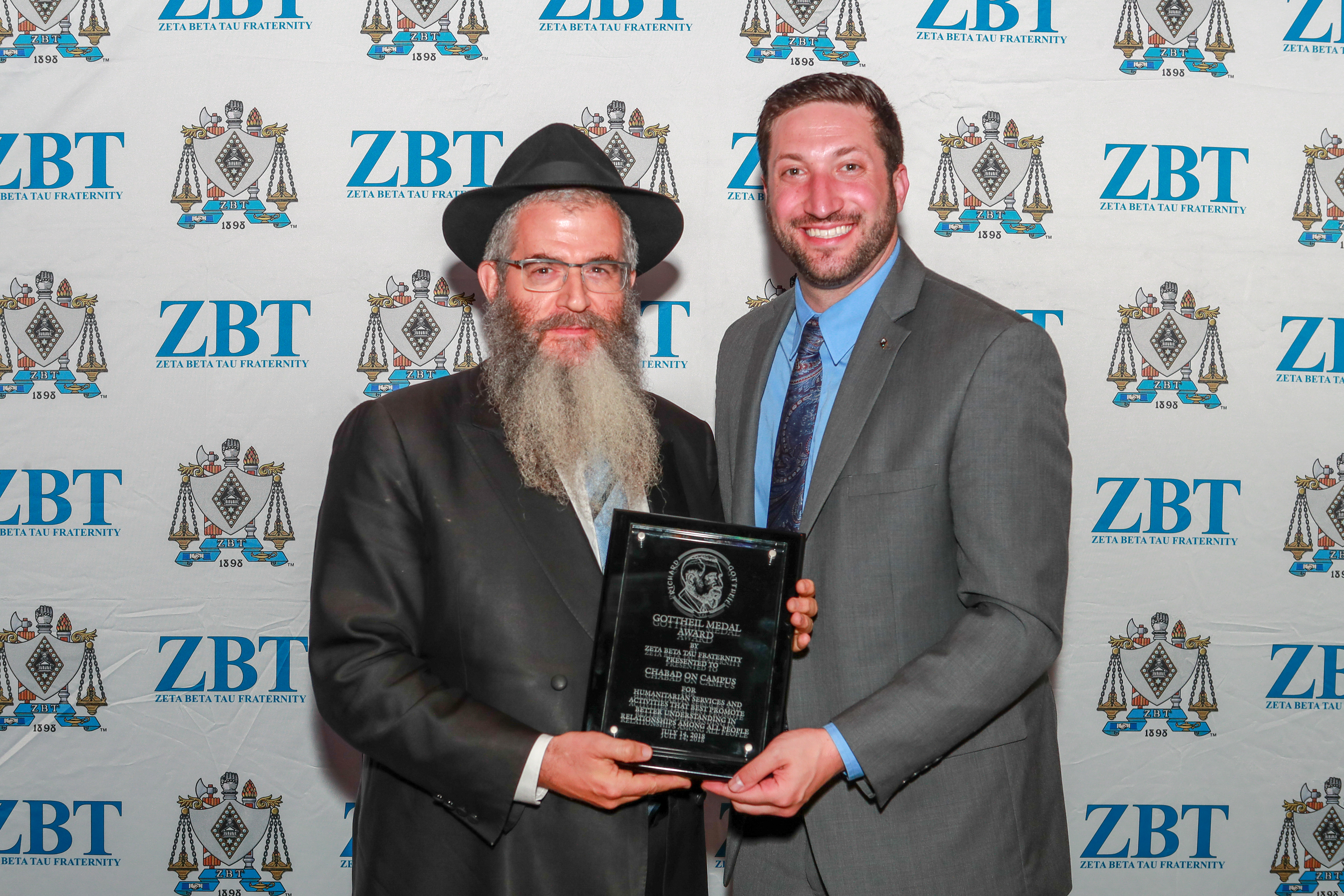 Rabbi Yossy Gordon accepts the Richard J.H. Gottheil Award on behalf of Chabad on Campus International