When Rabbi Chaim Steinmetz asked community members in Sarasota, Florida, questions about geriatric care, they were stumped. "I asked around, seeing if people knew things like why the elderly have memory issues, the best way to deal with a senior who doesn't recognize his children, or the recommended practices for encouraging people to take their medications when they're resistant." Though Sarasota is home to many elderly retirees, most people didn't have the answers.
This prompted the rabbi to arrange the Dr. Schwartzbaum Geriatric Compassionate Care Symposium, taking place this Sunday. A half-day event, the program features four prominent speakers with the goal of helping the community make better decisions and spreading awareness about geriatric care and end-of-life. Steinmetz expects 250 people, 75 percent of whom aren't members or friends of Chabad, including staff of local senior centers.
It's an issue no one else was touching, and "there is a real need for addressing them," says Steinmetz, director of Chabad of Sarasota with his wife Sara. "When we announced the event, many other local organizations came on board to partner with us." Sponsoring organizations include the Jewish Housing Council, pharmaceutical companies, and Jewish Family and Children's Services.
Steinmetz dedicated the symposium, which he hopes to make annual, to a close friend of Chabad. Dr. Leonard Schwartzbaum was the founder of Family Practice Associates, one of the most successful family practice groups in Sarasota, and one of the top doctors in the United States. "We didn't know it then," Steinmetz remembers, "but he generously funded the rent of our first Chabad center, one unit, and then two, in a strip mall." For over ten years, Chabad received the funding each month through an anonymous check. "He hardly ever stepped foot in the center, but he felt that Chabad was providing authentic Jewish tradition to the community and wanted to support it." The rabbi only discovered the identity of the anonymous benefactor after Chabad moved to its current building.
Schwartzbaum passed away last August after fighting Lewy body dementia for ten years. Steinmetz visited him every week. "Many people had stopped visiting because they didn't feel like he was really aware of their presence, but a person's soul is always aware and it's important to continue engaging with them."

Schwartzbaum's widow, Judith, lent generous financial support to the event. She said the symposium is a fitting way to honor her husband's legacy. "His passion was the care of his patients—most of whom were over sixty-five—and he would be pleased and honored that Chabad of Sarasota is presenting this special symposium."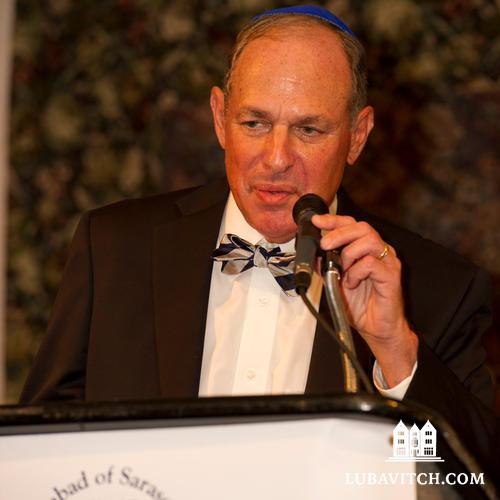 Dr. Leonard Schwartzbaum

The four speakers highlighting the symposium are prominent in the field with lengthy and prestigious bios. The first is Ira Byock, MD, FAAHPM, a pioneering palliative care physician, best-selling author, and advocate for improving care through the end of life.
Addressing legal issues that come up at the end-of-life is Jonathan Fleece, president/CEO of Stratum Health System and Tidewell Hospice and a health care attorney who currently serves on the board of the Florida Hospice and Palliative Care Association.
Jewish law can be complex for end-of-life patients, and it will be addressed by Rabbi Aaron Glatt, MD, chairman of medicine and chief of infectious diseases and hospital epidemiologist at South Nassau Communities Hospital.
The final speaker, Dr. Alan Grindal, a board certified neurologist and fellow of the American Academy of Neurology, will talk about how the brain ages and what to expect as it does.