Many of Hunterdon County's early Jewish settlers were chicken farmers. They came in the late nineteenth century prepared to work the land. Last week, the county's Jewish residents broke ground on a $4.7 million Jewish community center. The 17,000-square-foot Yakov and Hava Telyas Chabad Jewish Center facility, featuring a synagogue, social hall, library and kosher kitchen, will go up on ten acres of land acquired by Chabad in 2014.
Today, some 5,000 Jews live in the county, many of them working in pharmaceutical and biotech industries. Chabad of Hunterdon County was established in 2003 by Rabbi Eli and Rachel Kornfeld to serve the area's growing Jewish population. With blue ribbon schools and quaint country living, Hunterdon County is attracting young families.
"This is the beginning of a new era for Chabad." said Rabbi Kornfeld, speaking at the event attended by the area's local officials. "A large, permanent home will give us the capacity to grow our activities and reach out to even more Jews in Hunterdon County." The Kornfelds, who were recruited by Chabad's central Jersey regional directors, Rabbi Mendy and Malkie Herson, will move Chabad's activities out of rented facilities once the center is completed.
The building was dedicated by Avi Telyas and named for his parents. He was honored with the inaugural dig on the grounds. In his remarks, Telyas described his parents' open-hearted kindness. "Every building has a soul and in this one, we will try to interlace Chabad's mission with my parents' legacy, and the idea of giving and raising up those less fortunate."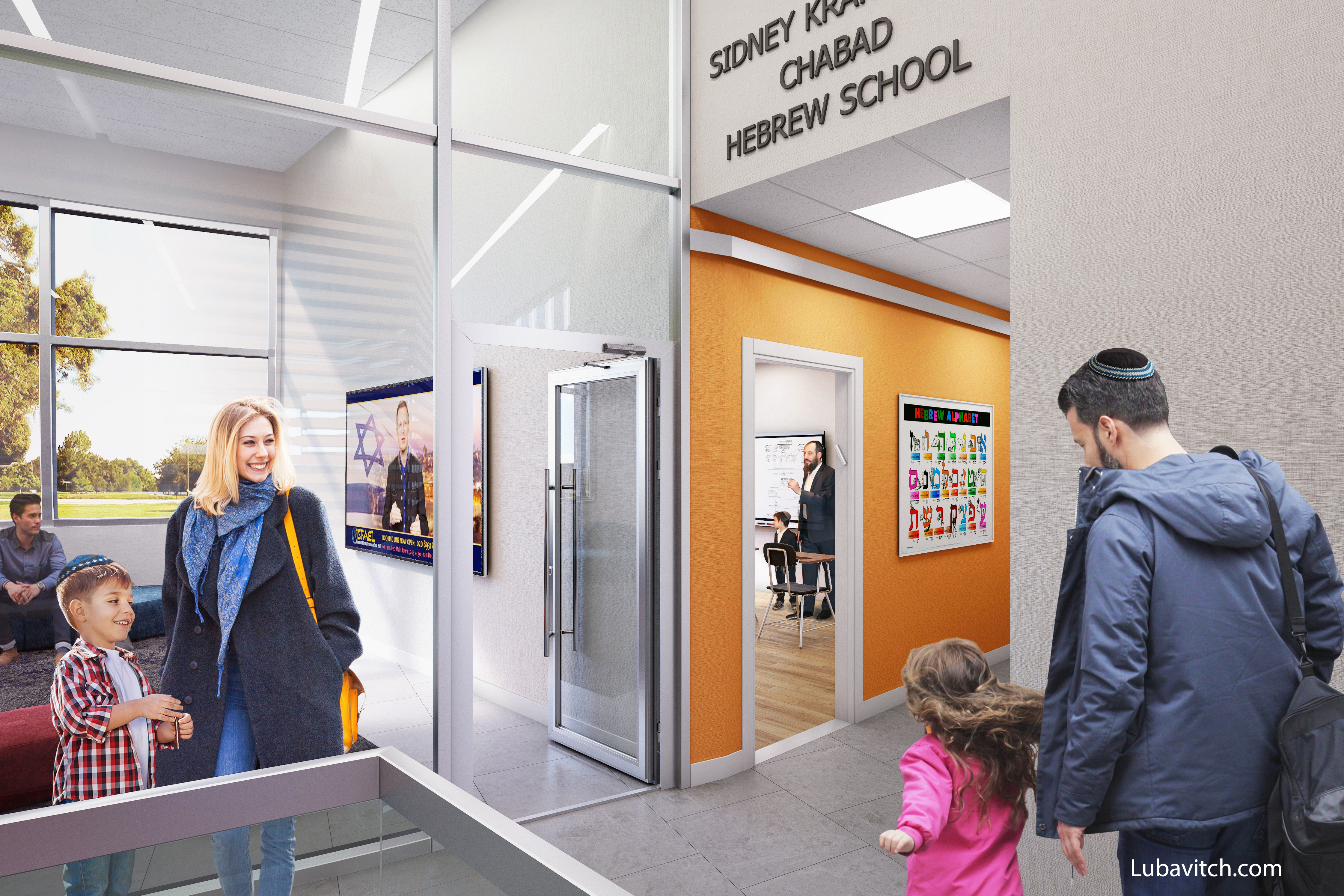 Martin, Ted and Carl Resnick dedicated the educational wing in memory of their parents, Jacob and Sarah. The center's preschool and Hebrew School, as well as youth lounge and a Holocaust Education Center will have ample space here. Children of survivors, the Resnicks feel passionate about ensuring that the history and lessons of the Holocaust are not lost to coming generations. And they found the ideal center to partner with—Rabbi Kornfeld himself is a member of the New Jersey Commission on Holocaust Education.
"Our generation has witnessed a Jewish renaissance and it's important for those who experienced the atrocities of the Holocaust to witness the rebuilding of vibrant Jewish centers around the globe." said Kornfeld. "It's a miraculous transformation in less than a generation from lonely dejected stones to beautiful cornerstones."
Chabad's Hebrew School was newly named in memory of Sidney Krakauer by the Krakauer family. Introducing the naming ceremony, Rachel Kornfeld talked about the expansion of the school saying, "While our Hebrew School has grown to over sixty students, our guiding principle hasn't changed: Every child is an entire universe. The new building will provide much needed space to facilitate our continued growth." In his remarks, Andrew Krakauer lauded his father's passion for Jewish education, "he would be so proud to see his children dedicating a Jewish school in his memory."
To date, the local community raised $3.4 million of the budget.
The center—one of over fifty synagogues and Jewish centers across the globe designed by the renowned Landau Zinder Architects of Princeton—is slated for completion by the spring of 2020.
The event featured activities for all ages including tractor rides, a moon bounce, and rock climbing for children and was well attended by local politicians as well as Rabbi Moshe Herson, Chabad of New Jersey regional director and dean of New Jersey's Rabbinical College of America.
For more information and to support Chabad of Hunterdon, visit www.JewishHunterdon.com.