When Rabbi Leivi Sudak's flight from London to New York was diverted to a small town in Newfoundland, Canada, he recalled the holy Baal Shem Tov's teaching that wherever you go, you are led by Divine providence.
The date was September 11, 2001, one week before Rosh Hashanah. Sudak, director of Chabad-Lubavitch of Edgware, had planned a one-day visit to New York. He would land at JFK airport, take a taxi to the nearby Ohel (resting place of the Lubavitcher Rebbe), pray for a good and sweet year, and catch a flight back to London the next evening.
Instead, Sudak, along with 6,700 passengers on thirty-nine airplanes, was rerouted to Gander, Canada. It was here, in this small town of approximately 9,000 people, where they needed to remain until U.S. airspace reopened.
"Throughout this experience, I kept asking myself, 'Why am I here? What is the purpose of all this?'" Sudak said. Over the next few days, his questions were answered.
Sudak's ordeal is dramatized in Come From Away, a Tony award-winning musical in which his character plays a key role. The show is still running on Broadway, and after a sold-out streak in Dublin, it recently opened in London to standing-room-only audiences.
Sudak and his fellow "plane people," as the townspeople called them, were awestruck by the kindness and generosity displayed by the citizens of the unassuming town. Upon learning of the diverted planes, Gander folk mobilized, converting every possible space into shelters and setting up communication centers so that the passengers could contact their families. Grocery shelves emptied as residents cooked up a storm to feed the guests, who hailed from ninety-five countries. Hunters donated the freshly killed moose, intended to last their families all year, to be cooked into massive stews. Many families hosted visitors in their private homes.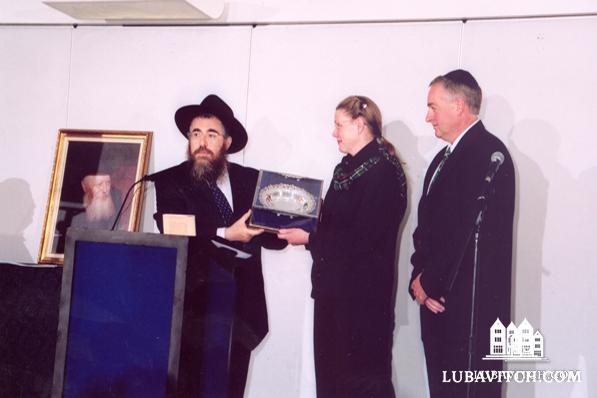 Rabbi Leivi Sudak presents a gift to Eithne and Carl Smith of Gander, Newfoundland, at the annual dinner of the Chabad-Lubavitch of Edgware, where they were guests of honor.
Sudak was among 500 people housed at a school. His first challenge was to arrange kosher meals. Eithne Smith, a schoolteacher in charge of the shelter, helped him set up a kosher kitchen and a classroom for services. As it was the month of Elul, Sudak's shofar resounded throughout the halls and brought hope and reminders of faith at this time of panic and anxiety.
At local stores, Sudak purchased industrial-sized kitchenware as well as rice, vegetables, and fresh fish. He even found oil with a kosher certification. The rabbi rolled up his sleeves and, with the help of volunteers, provided tasty meals for twenty-eight kosher-observant passengers.
During his stay, Sudak met local Ed Brake, an elderly Holocaust survivor who had hidden his Jewish identity for decades. In Nazi Germany, Brake's parents had entrusted him and his brother to a British family, who moved to Newfoundland. Their adopted family forbade the brothers from expressing anything that might sound remotely Jewish. When Rabbi Sudak returned to England, he sent Brake a yarmulke, tallit, and siddur. He later learned from Brake's son that before he died, Ed had asked to be buried with these sacred Jewish gifts.
As the first weekend approached, Sudak realized he would have to spend a Shabbat in Gander. He was amazed to find two bottles of Manischewitz wine in the local liquor store and kosher bagels as a substitute challah. Eiran, a fellow passenger in saffron Tibetan monk's robes who turned out to be a descendant of a prominent Jewish Jerusalem family, spent hours peeling potatoes while singing Shalom Aleichem. He asked to recite his own Kiddush.
During Shabbat, word came that flights were leaving the island. Unable to travel on Shabbat, Rabbi Sudak and a Chabad mother and daughter, Baila and Esther Hecht, stayed behind.
After Shabbos, Eithne Smith and her husband Carl, eager to help the trio reach a Jewish community by Rosh Hashanah, drove them more than 300 miles to catch a flight to New York. Sudak arrived at his relatives' home in New York just seven minutes before sunset on Rosh Hashanah.
"What's most important here is the enormous kindness of these people at a time when the rest of the world was in absolute turmoil," said Sudak. "The message of the musical is extremely holy. It teaches us that in spite of the darkness around us, we are still human, we can still care, we can still look after the human beings around us."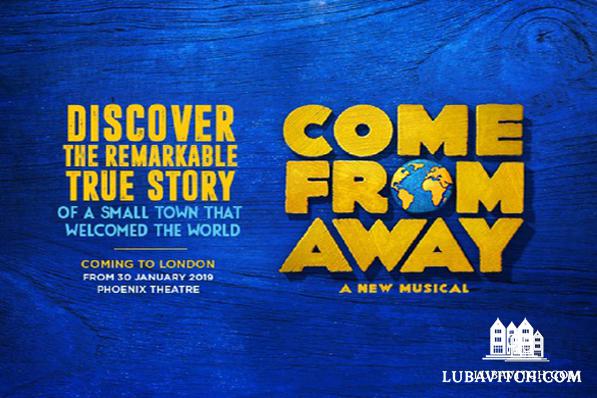 This article was featured in Lubavitch International, Summer 2019. To order your copy, visit www.lubavitch.com/subscription.