One hundred and fifty community members gathered to break ground and lay the cornerstone of the new Feldman Campus for Jewish Life and the Tabacinic Chabad Center at Chabad of Clearwater, Florida.
Donning personalized hardhats emblazoned with the Chabad of Clearwater logo, lead donors Marvin and Linda Feldman and city Mayor George Cretekos joined Rabbi Levi and Miriam Hodakov, directors of Chabad of Clearwater for nine years, in breaking the ground for the new center on a 1.25 acre vacant lot. Purchased two and a half years ago, the lot stands adjacent to the existing center which doubles as the Hodakov family home, where activities are being held until the new center's completion. Chabad has thus far raised $1.2 million of the $1.5 million goal.
Plans for the new center, drawn up by Behar and Peteranecz Architecture, include a spacious synagogue, commercial kitchen, women's mikvah, and a space for Chabad's popular kosher grocery store—the only one in Clearwater. Capitalizing on the year-round warm weather, the center will also include a playground and outdoor patio where Kiddush lunches and Shabbat dinners can be hosted.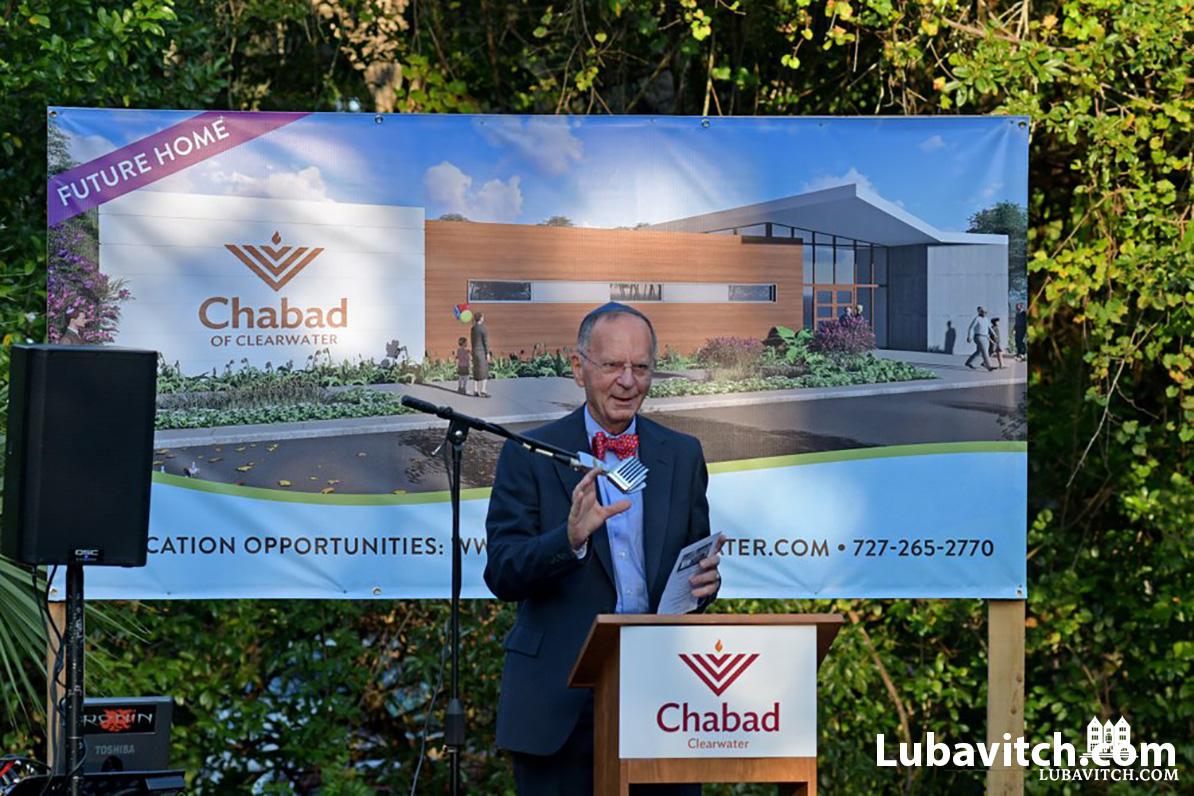 "We're building a real testament to Jewish life," says Rabbi Hodakov. Refrencing various Holocaust museums and memorials that exist in the area and elsewhere, he says, "We're seeing the construction of many monuments and tributes to our Jewish past. This will be a living memorial, a place where Judaism isn't just remembered but where it lives on; a place where we can truly declare, 'am Yisrael chai,' the Jewish nation is flourishing."
Children and adults enjoyed a live Klezmer music performance and a deli dinner. "Here we will bring our children to usher them into adulthood," said Marvin Feldman in his remarks at the groundbreaking. "It'll be a place to bring our children to the chuppah, to start new families and create new memories. It'll be a place to find comfort after losing a loved one and it'll be a place to add our own feelings and thoughts to the common memory of the Jewish people."
Lead donors to the center also include Morris and Lillian Tabacinic of Bal Harbor, Florida. Lead donors of the planned mikvah are Mikvah USA and Avi and Orit Ovaknin of Fort Lauderdale.
Missing no opportunity, participants prayed the Mincha afternoon service on the property of their future synagogue just as dusk settled on the city.