Adams House, a local landmark located in Bethlehem, NY, has had a long and varied history. First built in 1838 by Nathaniel Adams, the founder of Bethlehem's Delmar hamlet, the Greek Revival has been home to the town hall, volunteer fire department, post office, and most recently, NYSARC. This October, after nearly a year of vacancy, Adams House's newest inhabitants moved in. The latest in a long string of prestigious institutions, Bethlehem Chabad now calls Adams House their home.
The building was purchased on Thursday, September 29, 2016, just three days before Rosh Hashanah. Working quickly with some twenty members of the community, Rabbi Zalman and Chanie Simon readied the building for the high holiday services. Before the holiday of Sukkot, Bethlehem residents came together once again to build a communal sukkah.
"Bethlehem Chabad is about reaching out and touching lives. To my family, the new building means that we have a new and a beautiful place to come for prayer and services and also a comfortable place to get together, learn and celebrate with friends," says community member Dr. Lev Barats.
Bethlehem Chabad has had a presence in the local community since 1986 when Rabbi Nachman and Clara Simon launched Chabad of Delmar. In 2011 Rabbi Zalman and Chanie Simon moved to the area to expand Chabad's activities and cater to the entire town of Bethlehem. Bethlehem has over 1200 Jewish households, 300 of which are currently involved with Chabad.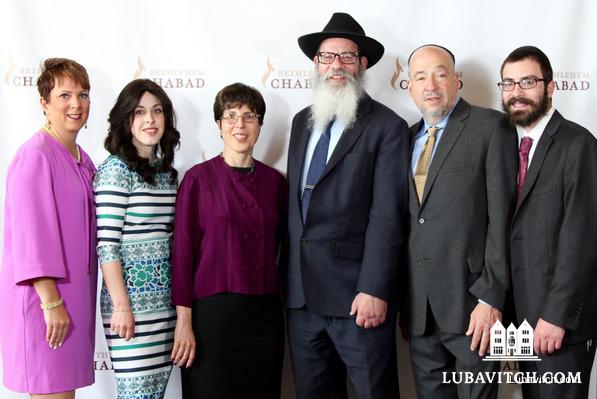 "There has been incredible growth in our activities and acquiring this new building is another step in making Judaism accessible in Bethlehem," says Mrs. Clara Simon. "There is tremendous historic significance to the new home of Bethlehem Chabad, as one of the town's residents expressed it: "You are now in the most iconic building in the Town of Bethlehem.'"
In 2013, Chabad leased a small storefront to use as their center of operations, which they quickly outgrew. "We're honored to make the prestigious Adams House our permanent home, and we're excited to see further growth in our community," shared Rabbi Zalman.
Bethlehem Chabad will launch a building campaign to raise funds for renovations, taking care to preserve the building's historic exterior. The new center will be used to for a wide array of programming including services, bar and bat mitzvahs, holiday programming, adult education, kids club and more.
The center also serves as headquarters for Chabad's food pantry, which operates under the umbrella of Capital Chabad, organized by Rabbi Rubin for the wider Albany area. The Bethlehem food pantry caters to over fifty households each month, providing food staples to those in need.
Sarah Stiefel, a local community member, is thrilled with the way the new center will impact her experience. "When I moved to Bethlehem, I wanted to continue my involvement and I was happy to learn about the new Chabad house moving just a short distance from my apartment. Rabbi Zalman, Chanie, and their family have been very welcoming and have made me feel like a part of the Jewish community."
For more information, visit www.bethlehemchabad.com.