College is a time of expanding horizons and new experiences. For the last 12 months, it's also been a place of the great (and sometimes scary) unknown.
Millions of American students left their campuses last March for spring break amid vague references to a foreign-born disease. Many never returned. As Covid-19 skulked through the world, universities had no choice but to shut their hallowed halls. On eerily quiet campuses across the globe, and with every safety measure in place, 271 Chabad representative couples remained. Oftentimes, they were the only active religious or social organization in service. A year later many gratefully note an expansion of reach and programming.
Erika Lupuloff remembers the moment. "I was visiting my granddad in Florida for spring break when I received the message that school wouldn't reopen as scheduled," recalls the Georgia Tech senior. "I was expecting it to close for a week, not a full semester." The biomedical engineering major references the class on cellular molecular biology she completed in Fall 2019. "It wasn't a huge shock for me, my professor had been preparing us. But I never imagined it would look like this, or that everything, in and out of the classroom, would be impacted." 
Luckily for her, Lupuloff was already an active member of her school's Chabad outpost run by Rabbi Shlomo and Shifra Sharfstein. "For awhile," she recalls, "Shabbat to Go was the only interaction I had with the world. Walking to get my Shabbat package made me go outside, let me see other humans. Even though we were all apart and masked, those few minutes definitely saved my mental health." 
"Sheltering in place can be extremely unhealthy mentally," notes Shifra Sharfstein who, together with her husband and children, has been serving this Atlanta campus for the past decade. Last spring, the school's administration asked several chaplains to bring students together in a safe manner. The Sharfsteins jumped right in. "I definitely had my moment at the beginning, 'how will I manage?' and 'how will we stay connected?," she acknowledges. "But the Rebbe always taught us to think outside the box, to get creative. And actually, we have reached many more people this year in an immediate, personal way."
Shabbat To Go Packages transmit a taste of one of Chabad on Campus' most popular programs to individual dorm rooms. Each week, the Sharfsteins offer an interactive activity that students can enjoy while they pick up their challah, grape juice and matzo ball soup. Like their colleagues around the world, the Sharfsteins have finessed a hybrid of online and in-person classes and events to accommodate individuals' needs and preferences.
"Our main work is to build community. Students who are part of something bigger than themselves, who feel needed, are the ones who do the best," believes Sharfstein.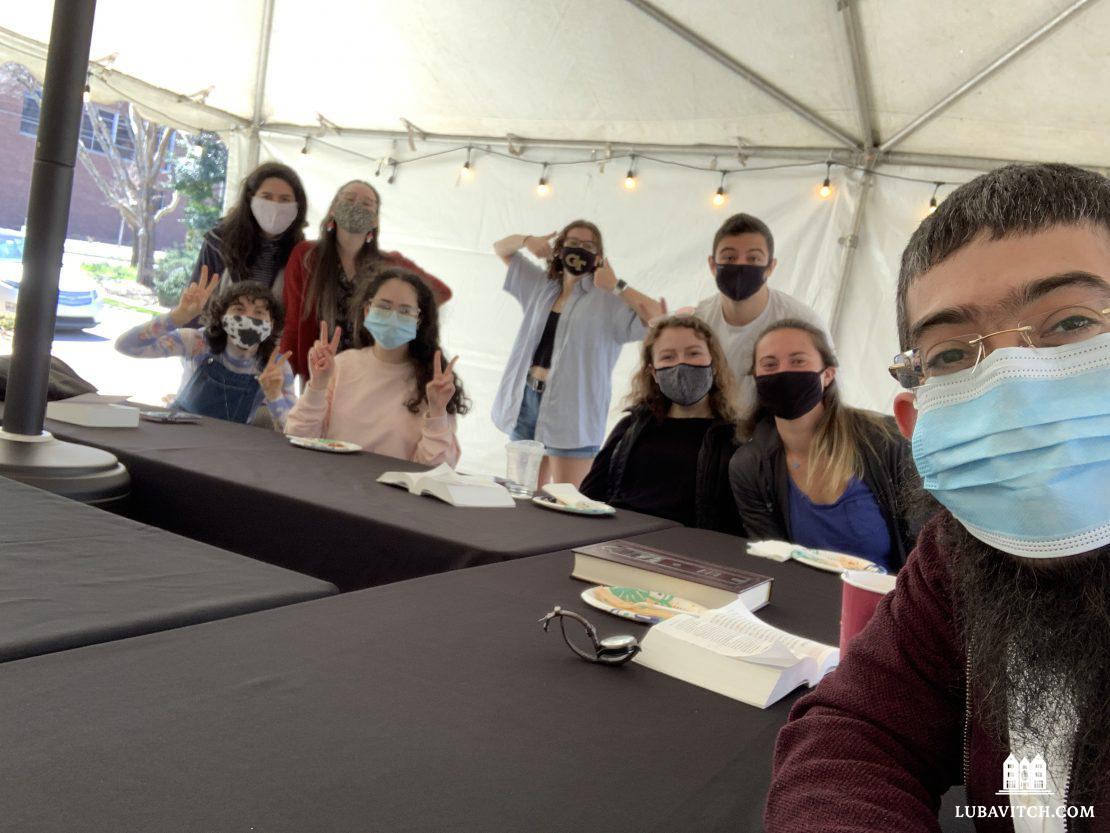 Rabbi Mendy and Sara Alevsky have been serving the students of Case Western Reserve University since 2013. Last week Sara was asked by a professor to speak to his class on religion during a pandemic. The topic made her contemplate the past year. "In a way, it's been better," she says. "Usually, students are torn between classes and clubs and Greek life. They have to actually make the time to be Jewish." With most campus life closed, and Chabad the only Jewish show in town, suddenly, it's different. "They are coming and coming back and they want to be here."
The changes, she hopes, will outlast the pandemic. Because non-students are not allowed in dorm rooms, the Alevskys taught students how to affix mezuzahs to their doors themselves. Students proudly text Sara pictures of the Shabbat meals they have started to conduct in their rooms, of the challahs they baked under her virtual direction. For Pesach, next month, the couple plans to send DIY Seder packages so that students can conduct their own seders with their own pods.
"We showed them," says Alevsky, "that they can do Jewish by themselves. They can be Jewish not only at the synagogue or Chabad center, but wherever they are."
Reaching students wherever they are has always been a focus for Chabad representatives to the University of Kansas, Rabbi Zalman and Nechama Tiechtel. In the beginning of the pandemic, the Tiechtels created interactive Zoom events and classes to meet the students where they were: online. So many people were desperate for connection, that the couple has offered eight new courses over the last year to dozens of new students. They have also morphed their bigger events into more intimate encounters. Following the Shabbat To-Go pick-ups and the speedy walk-through Shabbat Lite programs the couple offers each week, is an intimate Friday night dinner for no more than ten. "We are able to sit and speak with each student," Tiechtel shares. "We have been able to really connect on a personal level."
Mental health, which is so fragile at this stage in general, has taken a greater hit over the past 12 months. "This year has been extremely difficult for students," believes Tiechtel. "They have lost all social norms and are often isolated for days and weeks on end." In conjunction with Jewish Family Services, Chabad offers monthly events featuring a therapist and Rabbi Tiechtel discussing issues of mental health and anxiety. Together, they have trained student Ambassadors of Strength to reach out to their peers to detect and help with any issues. "In many ways, we are first responders. Oftentimes, they won't want to speak to their parents or therapists. Sometimes they just need a listening ear, sometimes we refer them to professional help."
"Coming to college is completely new and crazy, even before Covid," states Lukuloff. "This year, Chabad has been the only opportunity to connect with students from all walks of life, to gain new perspectives, and to grow community. It's absolutely incredible."