It's safe to say there is no Katz's Delicatessen in Seoul. In fact, until about a decade ago, local Jews relied on the local US Army base for their Jewish needs, such as Shabbat services and Passover seders, which became more difficult as security measures were heightened over the years.
Since 2008, Rabbi Osher and Mussy Litzman, South Korea's first permanent rabbi, have been the address for all things Jewish to the 500-1000 Jews living in Seoul at any given time. To Jewish diplomats, English teachers, businessmen, students and US army families living in South Korea's capital, the Chabad House is a "Jewish Embassy."
It's the place where Jews come to meet other Jews, to enjoy something kosher to eat and to pray. Jewish businessmen who travel to South Korea feel comfortable booking tickets that will have them spend a weekend in Seoul, because they have where to spend Shabbat.
Eli and Miriam Tobias, a US army family, served for four and a half years in Korea. The Tobias children attended the Chabad preschool, where they learned to read, speak and understand Hebrew. They also forged close friendships with the Litzman children. "The Litzman family have really created a Jewish atmosphere in Seoul," shares Miriam, "without it, it would have been very hard for us to live there and raise our family."
While in Korea, the Tobias' had a baby boy. His bris, held at Chabad on a Friday, was followed by Shabbat dinner for the entire community. "It was magnificent," Miriam, now back at Eli's home base in Arizona, recalls.
Chabad once hosted two bris ceremonies in one week, a rare occasion for the tiny Jewish community. The mohel was already on his way to the airport after performing a bris on the Litzman's own son, when the they called him, asking him to spend a few more days in Korea, as they had just been made aware of a baby boy born to one of the Israeli engineers working for aerospace and defense company, Elbit Systems.
Chabad in Korea has also hosted a wedding and a bar mitzva, all catered by Mussy and held on the front lawn of the faux-Tudor style house that plays home to the Chabad House and to the Litzmans and their seven children.
After graduating from Princeton University in 2017, Matthew Silverman is working in Seoul as the copy editor of Korea JoongAng Daily, a local English paper. He first arrived in Seoul on a Friday, and Chabad has been his home away from home since. Touched by the great lengths that Osher and Mussy go to make him, and others in the transient Jewish community, feel comfortable, Matthew fondly recalls a "Wacky Mac & Torah" session that the rabbi organized after he mentioned that he missed the Wacky Mac cheese dinners from home. Mussy even included different shape pastas to remind him of the real thing.
To accommodate the influx of Jewish fans, athletes and journalists, the Litzmans, who speak Korean, have opened a pop up Chabad House and kosher restaurant at the site of the Winter Olympics in PyeongChang, a two and a half hour drive from Seoul. They will also operate a Jewish Room at the Olympic Village, stocked with kosher food and wine and challah for Shabbat.
For more information about Chabad's Jewish services in Korea or to support the building of a mikva in Seoul, please visit www.JewishKorea.com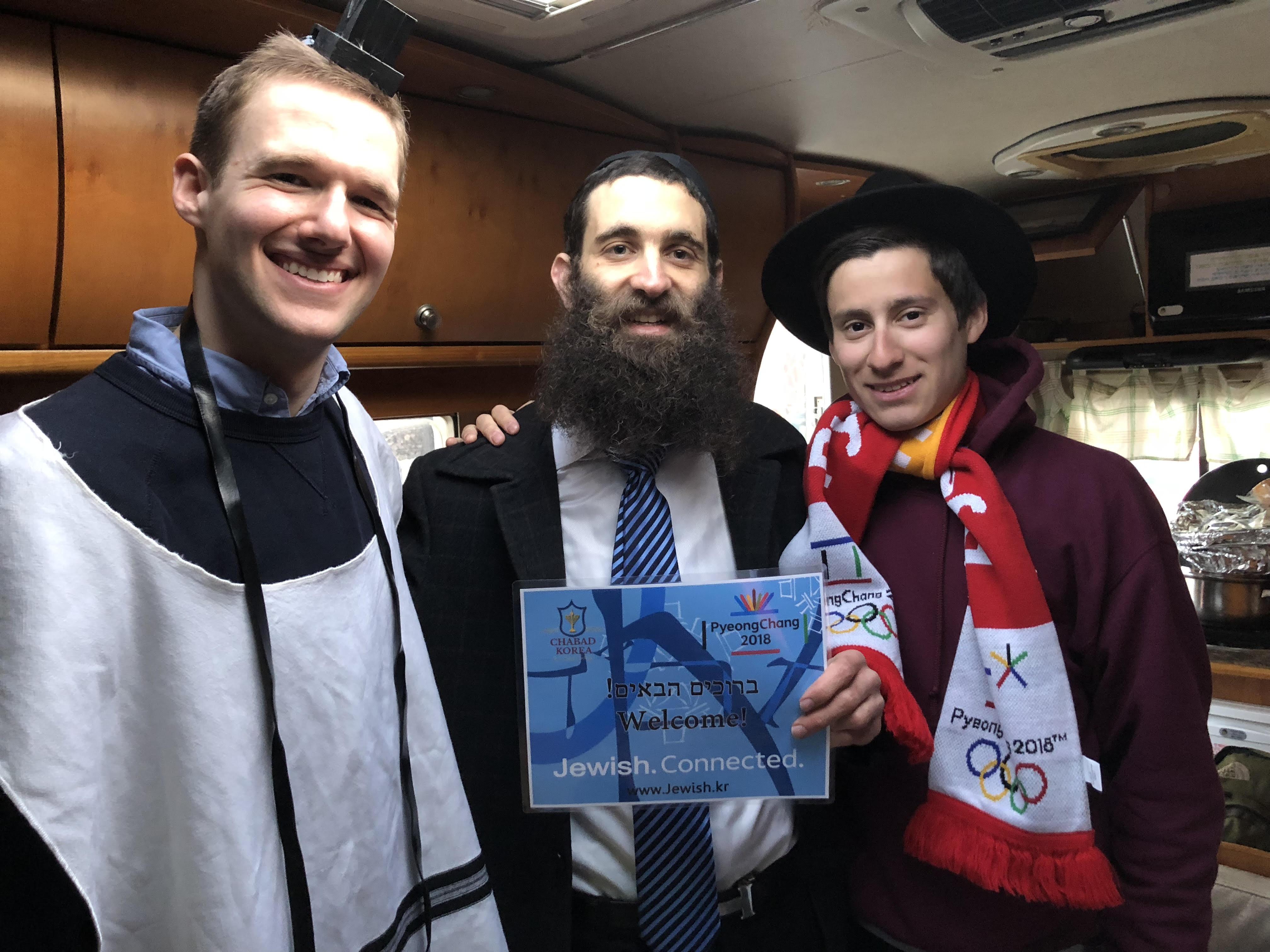 Rabbi Osher Litzman welcomes Jewish tourists to the 2018 Winter Olympics.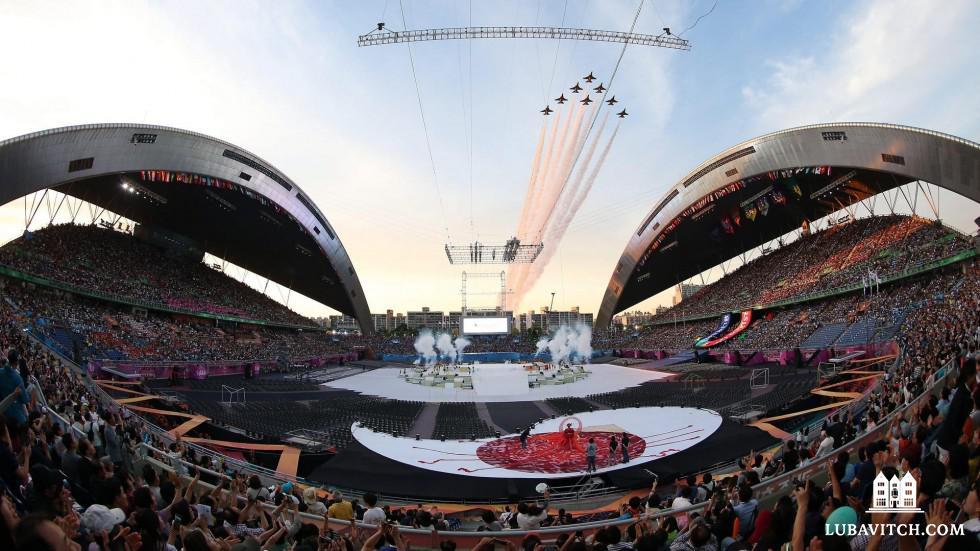 A Jewish room at Olympic Village is stocked with kosher food, wine and challah for Shabbat.