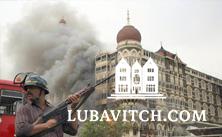 Terror Relief
DID YOU KNOW that on September 11, 2001 while the skies over New York, Washington and Pennsylvania were darkened with smoke from the terror attacks, Chabad-Lubavitch was already at work organizing relief centers for thousands of stranded passengers diverted from US airspace?
In Israel, citizens are constantly under threat of attack, and Chabad's emergency response teams are on call to take action at a moment's notice, 24 hours a day, 7 days a week, 365 days a year.
In Jerusalem, Netanya or when terrorists strike anywhere around the globe, Chabad's emergency teams respond immediately by providing:
Assistance to members of victim's families at area hospitals
Spiritual guidance to the wounded victims
Comfort for grieving families in planning funeral arrangements
Emergency financial aid for such basic necessities as food, taxi fare and babysitters for traumatized families left without basic funds
Support for families during the Shiva (mourning period), daily minyanim (prayer quorums) and kaddish -- especially important for lone immigrant youth or elderly survivors requesting ritual guidance
Healing for the community by holding public memorials (shloshim) 30 days following the event at the site of the attack
In the months and years following the attacks, when others forget, Chabad remains the pillar of strength for victims and their families.  Among hundreds of examples of support, Chabad has supported the family of Daniel Wultz, 16-year-old from Florida, in a homicide bombing in Tel Aviv, dedicated a Torah in memory of Avia Malka, a 9 month old resident of South Africa, murdered by a terrorist in her baby carriage in Netanya, and assisted the family of 11 month old Osher Amar, seriously wounded by a Kassam on his Kibbutz.
In the aftermath of terror attacks, whether in Haifa, New York or Beslan, Chabad provides:
Religious guidance throughout the mourning period and preparing for the yarzheit (anniversary of the death)
Access to medical care to heal the physical scars, and counseling to deal with the emotional scars
Children with the opportunity to attend summer camp and have Bar/Bat Mitzvahs
Holiday programming, visitations and travel programs.
WON'T YOU PLEASE CONSIDER A CONTRIBUTION DESIGNATED TO OFFER RELIEF FOR VICTIMS OF TERROR?
BY DONATING NOW, you will partner with Chabad-Lubavitch in providing immediate and long term care for the victims of terror so they can heal from the psychological trauma and physical damage.
Get Inspiration to your inbox!
Join our weekly newsletter for inspiration and updates